I interviewed Kimberley Hare, writer, retreat leader and co-founder of the HEART Community Group. HEART supports people who take the view that the current climate/ecological overreach requires deep adaptation.
Kimberley is the author of three books, and is currently writing her latest book called "What is Mine to Do? And who could I do it With?"
In her interview Kimberley talks about nature, the polycrisis, her 4-day 'Edge' Retreats, her Wednesday Witness Club and 'the gifts the other side of grief'.
Leslie: What made you first aware of nature?
Kimberley: I've always been aware of it – from a very young child. Only more recently did I have a deep insight that I am, of course, nature. It is not something separate to me. This is one of the reasons I dislike the term 'environment' or 'environmental' – it smacks of something that is out there, rather than in here.
Leslie: What were the main steps & events that led you to your present ecological and climate concerns?
Kimberley: I read Professor Jem Bendell's paper that went viral in 2018 on Deep Adaptation. That led to an intensive period of educating myself on all aspects, and connecting the dots. I soon realised that we are in a polycrisis, and that climate and ecological breakdown is a consequence of Overshoot. I experienced the most profound existential grief. I knew I was called to shut down the business, and work out what was 'mine to do'.
Leslie: Can you tell us about Kaizen Training: what you were doing and why you left?
Kimberley: For 35+ years I led a global consulting firm, focusing on Transformational Leadership Development, Neuroscience, Brain-Friendly Learning and Change – mostly with big corporate clients. I shut it down when I 'woke up' to the polycrisis. I felt very strongly 'nudged' to devote the rest of my life to making whatever difference I could. I then co-founded the HEART Community Group, and started to offer my 4-day 'Edge' retreats. The Edge – A 4-day Retreat | HEART Community Group.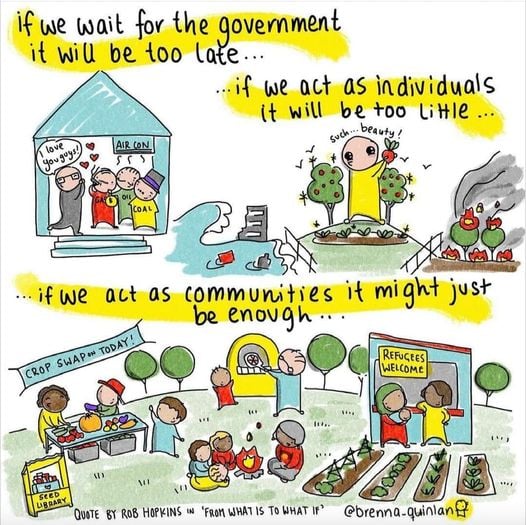 Leslie: What happens at your Weekly Witness Club? How is it structured and what inspires people in the group to actively participate?
Kimberley: People come because they value deep connection. There's a very loose structure, which may involve breakout groups.
Wednesday Witness Club meets every other Wednesday starting at 7pm UK time on Zoom for 90 minutes
It can be tough to find places where we can share authentically about what's going on in our hearts and minds at these times. We often go hungry for the depth of conversation that can be lacking. Many people say that it's like living in two different worlds – the 'normal' world where everybody continues to go about business as usual as though nothing is wrong, and the world that opens up for us as we wake up to the truth of the meta-crisis facing us.
These calls allow us to:
Witness and connect with our emotional responses to the meta-crisis we face.
Be alongside others who dare begin to let it in, and to hold a safe space while unpacking how we feel. To explore what might be our own personal 'thread' to pick up – what is ours to do? This is NOT about climate activism, coming up with plans or strategies – it's less about DOING and more about BEING fully human. Less about discussion, more about feeling.
How we can support each other to tell the story of our lives – and maybe a story that we can be proud of – no matter what happens?
Grief (if that is what we are feeling) isn't supposed to be done alone. If we block or numb our grief – we block our vitality. We numb our joy. But however, you're feeling, you will find a warm welcome at these calls.
There is no need to commit to coming each week – just whenever you feel the need to deeply connect with others, and to be fully heard and seen exactly as you are.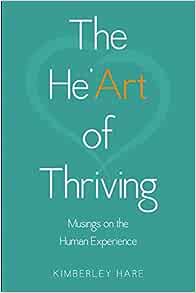 Leslie: You started the Heart of Thriving and wrote a connected book. Can you describe what you hope to achieve and what's unique / special about the book & the whole enterprise?
Kimberley: Again, this was all before I woke up to what's going on. I wanted to help people from all walks of life to truly thrive. The workshops I led, and the book, were designed as a simple introduction to the inside-out nature of the human experience, and the three principles that shape everything: Mind, Thought and Consciousness.
Leslie: Can you describe, please, the causes of your personal grief and how you made contact with 'the gifts on the other side of grief'?
Kimberley: There's so much to say here. I wrote some blogs from 2019 to 2022, many of which describe the grief, and my journey towards 'post-doom'.
Doom
A normal feeling of disgust or dread upon realizing that technological progress and economic growth and development are the root of our predicament, not our way out. A name for the anxiety and fear called forth when living in a corrupt, dysfunctional civilization causing a mass extinction. The mid-point between denial and regeneration . . . with or without us.
Post-doom
What opens up when we remember who we are and how we got here, accept the inevitable, honour our grief, and prioritize what is pro-future and soul-nourishing. A fierce and fearless reverence for life and expansive gratitude — even in the midst of abrupt climate mayhem and the runaway collapse of societal harmony, the health of the biosphere, and business as usual. Living meaningfully, compassionately, and courageously no matter what.
My constant questions these days are: "How can I tell a story with my life that I'm proud to tell – no matter what?" And "What is mine to do – and who could I do it with?"
Next week, I interview Sara Lodge about the full range of Edward Lear's creative work.
ABOUT LESLIE TATE'S BOOKS
Love's Register tells the story of romantic love and climate change over four UK generations. Beginning with 'climate children' Joe, Mia and Cass and ending with Hereiti's night sea journey across Oceania, the book's voices take us through family conflicts in the 1920s, the pressures of the 'free-love 60s', open relationships in the feminist 80s/90s and a contemporary late-life love affair. Love's Register is a family saga and a modern psychological novel that explores the way we live now.
Heaven's Rage is a memoir that explores addiction, cross-dressing, bullying and the hidden sides of families, discovering at their core the transformative power of words to rewire the brain and reconnect with life. "A Robin Red breast in a Cage / Puts all Heaven in a Rage" – William Blake. You can read more about/buy Heaven's Rage here.
The Dream Speaks Back, written by Sue Hampton, Cy Henty and Leslie Tate, is a joint autobiography exploring imagination and the adult search for the inner child. The book looks at gender difference, growing up in unusual families and mental health issues. It's also a very funny portrait of working in the arts, full of crazy characters, their ups and downs, and their stories. You can buy a signed copy of The Dream Speaks Back here.