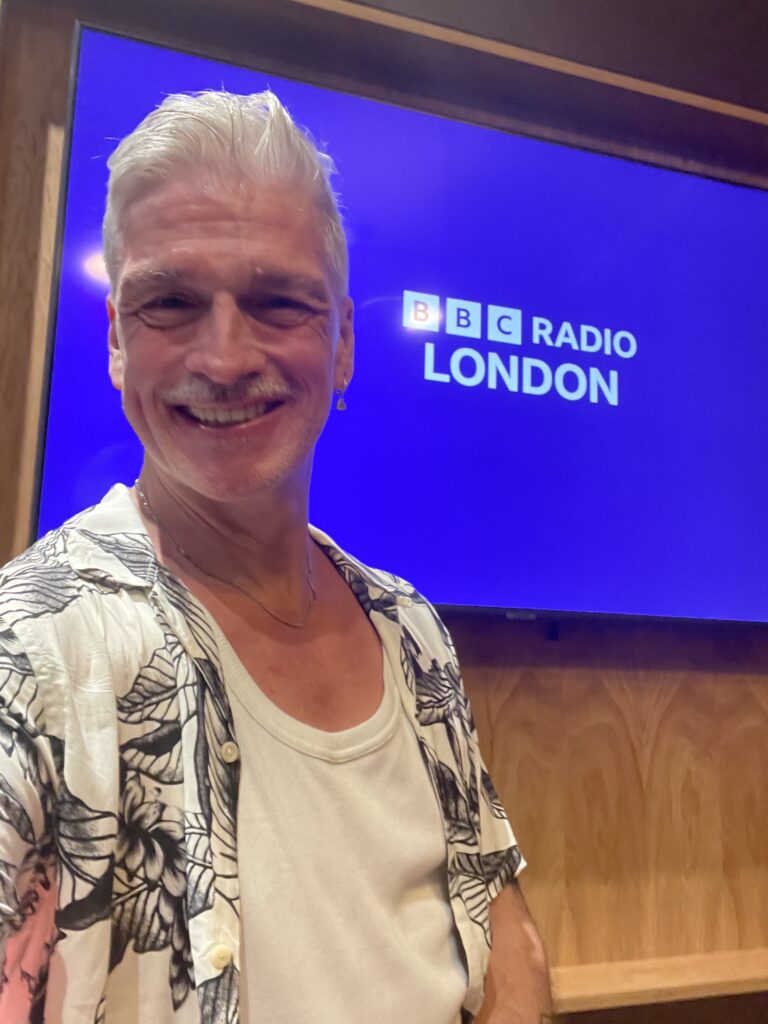 I interviewed international actor, broadcaster and cabaret artist Frank Loman, who has appeared in Les Misérables, La Cage Aux Folles, West Side Story, Cabaret, Rocky Horror Show and many other headline shows in the UK, Germany, Austria & Switzerland.
Frank has also starred in several West End/New York one-man shows. He has reviewed the day for Simon Lederman and Sunny & Shay as a guest on the BBC Radio London Late Show and sang for Jeni Barnett & Joanne Good on BBC Radio London's daytime programmes.
Frank paints, directs, writes & translates plays & lyrics, does voiceovers and has directed dubbing artists for The Girl from Oslo, Ada Twist Scientist, The Law According to Lidia Poët and other productions for Netflix. Recently, he co-wrote the forthcoming musical production Love Song Of Ruben Keyes with Wendy Waters and Ricardo Fernandes. You can hear Frank singing the title song here.
Leslie: Tell us about your voiceover work and your regular radio appearances on the Sonny & Shay Show. What's the story of working on your voice? How have you developed this instrument?
Frank: I got into Voiceover work completely by accident. During a particular difficult dry spell of non-existing theatre work. I was approached by a studio looking for new German-speaking talents. Since I was born and raised in Germany I went for a test and got the job. That was eight years ago. That's when I started dubbing fitness videos into from English into German. I developed my instrument almost naturally and a bit by accident – singing for me was always my first love so I was pretty much singing all the time – while cycling on my way home from school for instance. My mother would always say: "I can hear you before I can see you." You see, it was my grandmother who took me to the theatre first when I was 10. So naturally I applied for drama schools when I was 17 and got accepted.
Leslie: How do you prepare yourself (in and out of the studio) for voiceover and news commentary?

Frank: There are different ways for each. Voiceover work itself needs a bit of warming up of the voice and one should always be equipped with ginger tea and lots of water to stay hydrated. But that is pretty much the same for singing, acting etc. For news commentary and broadcasting, I have, in addition to the vocal warmups, to prepare my subjects for the show. The news commentators are usually pretty free in choosing topics but generally the subject should be ones which haven't been talked about on the radio all day on the day of the broadcast. We send the subjects to the producers for approval in the afternoon before the show. The broadcast itself is (in an ideal scenario) like talking to friends about subjects we care about. Chemistry between the presenters and commentators is key. Sadly the Sunny & Shay show will come to an end October 1st as the BBC is restructuring their local radio programming. It's sad as these people have become like family and I will miss them very much.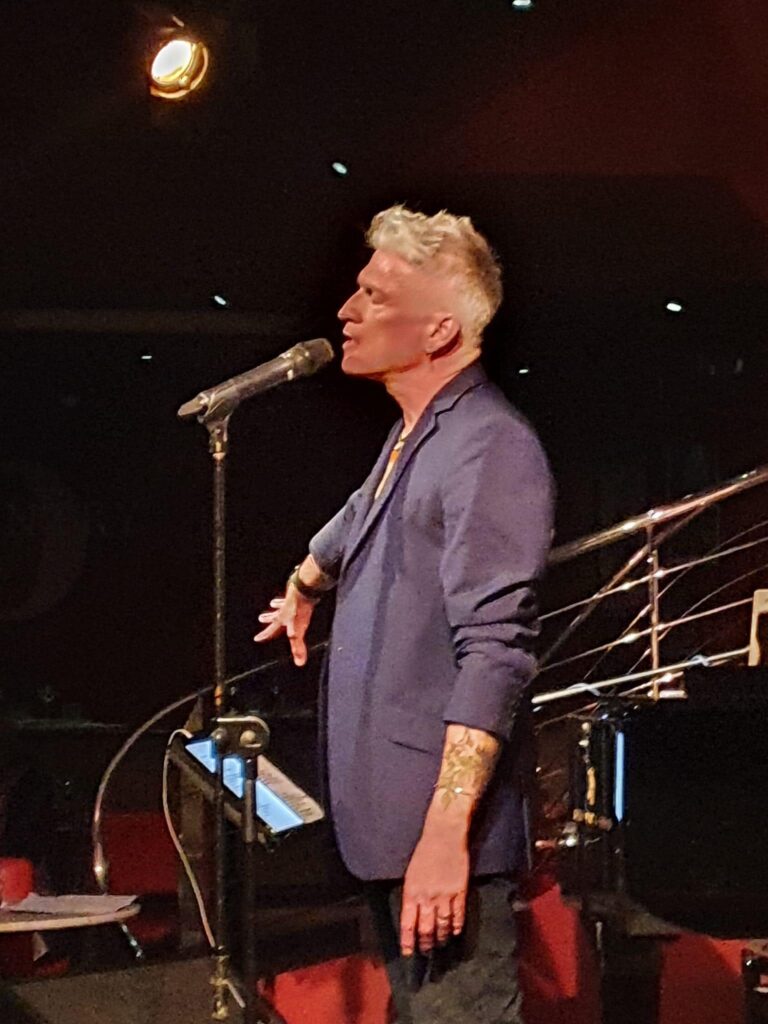 Leslie: How, as an actor, do you learn lines and deliver them without unintended pauses/errors/fluffs while retaining feeling and authenticity?
Frank: My drama teacher in the late 1980s (yes, I am that old…) taught us a brilliant trick for learning lines. She said, "Always learn lines while walking around. Then your body is already used to movement when reciting those lines. If you are stationary while learning lines it will be so much more difficult to remember them once movement is added." So, most of the time I look like a hungry lion pacing back and forth while muttering some Shakespeare or Sondheim lyrics.
Leslie: How does your cabaret work differ from voiceover/radio? What are the pressures on anyone delivering solo performance and how do you deal with them?
Frank: The difference for me between being in a play, or doing voiceover and radio is that in a cabaret setting my aim is to tell the audience something about myself. I like the audience to get to know me during a solo cabaret. A London critic once wrote:
"The only way you'd find out more about this guy's inner feelings is if you watched him having open heart surgery." – Josh Winning (QX Magazine) and in a NYC Cabaret Magazine: "It is clear Loman is a deeply sensitive man who wears his self-protective layers on his proverbial sleeve." – David Hurst (Cabaret Scenes).
I'm a storyteller by heart so that's what I want to do during a cabaret. I want people to be affected emotionally whether they laugh or cry. The pressure lies with holding an audiences' attention for an hour and a bit. For me it all stands and falls with authenticity.
Leslie: Your CV says you're highly skilled at 'Ballad, Ballroom Dancing, Baritone, Cabaret Singing, High Baritone, Jazz Singing, Rock Singing'. What would you pick out as your WOW moments in one (or more) of these areas?
Frank: This is a tricky one… my heart has always been hooked on a good ballad so that became one of my favourite styles of music. Being classically trained, I once got to sing Maria and Tonight from West Side Story on stage with a 50-piece orchestra. It was one of the most humbling experiences of my life. Making music with an orchestra which was not seated in an orchestra pit but rather around me made me understand that all I do is add another instrument, my voice, to all these talented musicians. Ballroom Dancing? I do a killer Viennese Waltz… Ballroom Dancing is actually the only dancing I can do. I failed at so many dance auditions as I don't seem to be able to pick up choreography as quickly as others. I did West Side Story twice – once as a Jet and once as a Shark… it took me weeks to learn the choreography. I guess it doesn't help that I can't tell left from right most of the time. Which is why I also don't drive..!
Leslie: How did you become bilingual? What insights has your German background given you into the English-speaking performance world?
Frank: I was born and raised in Germany and first came to visit the UK in 1984. I travelled by myself from SW Germany to Nottingham, did a few days of a stop-over in London and was hooked. After my visit my grades in English improved tenfold and I decided that one day I would live in an English-speaking country. Finally in 1999 I moved to London and have never looked back. The scene here is tough, tougher than in Germany and people's egos are also much bigger here! During rehearsals for my first West End Show, Les Misérables, one of the other male members of the ensemble said to me: "Frank, you have no right to be here – you take away my job!" Today I would complain straight to the Actor's Equity but 22 years ago all I could do was cry on the barricade.
Leslie You also have other creative fields you work in, particularly painting and a range of sports. How do these relate to your life as a performer?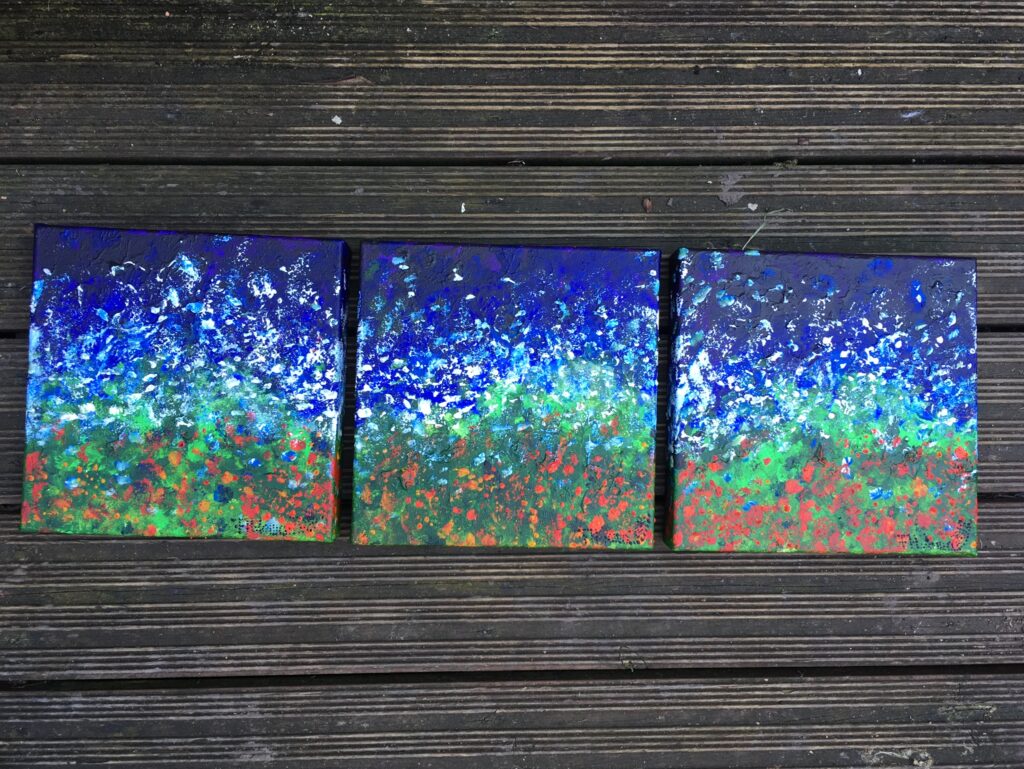 Frank: Painting for me is another outlet of emotion and creativity. When I sing I'm looking for an emotional response from the audience – the same I would like to achieve when someone looks at my artwork. So it all is kind of the same and I find it difficult to state whether I prefer one over the other. Sport for me has always played an important part in my life – be it cycling or rollerblading or simply working out at the gym. I suffer from severe depression and physical activity has always helped me to keep the Black Dog at bay.
Leslie: How has being gay affected you, spurred you on and shaped your career?
Frank: This is a tricky one as there are so many facets to this subject. I've been out in the open since I was 15 years old so that was never an issue. Working in theatre helped massively as pretty much everyone on the theatre world is open and accepting of pretty much any sexual orientation.
Often gay men are limited to playing gay men in theatre and film. I deeply dislike this kind of stereotypical casting – it's called acting after all so I have always been interesting in playing straight characters. When I explore a character, I look at physicalities first and then go into the psychology of a character.
Being gay itself didn't really shape my career – I always tried to use my open and out persona in order to help others. Be it coming out or accepting themselves generally. One of my plans for the future is becoming a life coach. I would like to specialise in counselling people living with HIV and/or with a history of domestic abuse. Both areas I come from and fought through. I was diagnosed HIV+ in 2001. I went downhill pretty quickly and spent three months in hospital during which I almost died. This put a very different spin onto my life. Today I'm undetectable and have been for pretty much 20 years. But it put a stop on my career – for recovery on one hand but also, once I'd been through the worst 2004/2005, I had to re-invent everything and I had to start from scratch to some extent.
Next week I interview Angela Cockayne about her remarkable ecological art collection The Ark Embrace
ABOUT LESLIE TATE'S BOOKS:
Love's Register tells the story of romantic love and climate change over four UK generations. Beginning with 'climate children' Joe, Mia and Cass and ending with Hereiti's night sea journey across Oceania, the book's voices take us through family conflicts in the 1920s, the pressures of the 'free-love 60s', open relationships in the feminist 80s/90s and a contemporary late-life love affair. Love's Register is a family saga and a modern psychological novel that explores the way we live now.
Heaven's Rage is a memoir that explores addiction, cross-dressing, bullying and the hidden sides of families, discovering at their core the transformative power of words to rewire the brain and reconnect with life. "A Robin Red breast in a Cage / Puts all Heaven in a Rage" – William Blake. You can read more about/buy Heaven's Rage here.
The Dream Speaks Back, written by Sue Hampton, Cy Henty and Leslie Tate, is a joint autobiography exploring imagination and the adult search for the inner child. The book looks at gender difference, growing up in unusual families and mental health issues. It's also a very funny portrait of working in the arts, full of crazy characters, their ups and downs, and their stories. You can buy a signed copy of The Dream Speaks Back here.
Ways to be Equally Human tells the inside story of coming out as a non-binary person, from being 'othered' in gendered toilets to stepping up on stage & radio and taking action with Extinction Rebellion. Full of lyrical writing, humour and quirky insights, this is a book for lovers of language, nonconformists and passionate thinkers. Due out Jan 2024. Preorder your copy here.