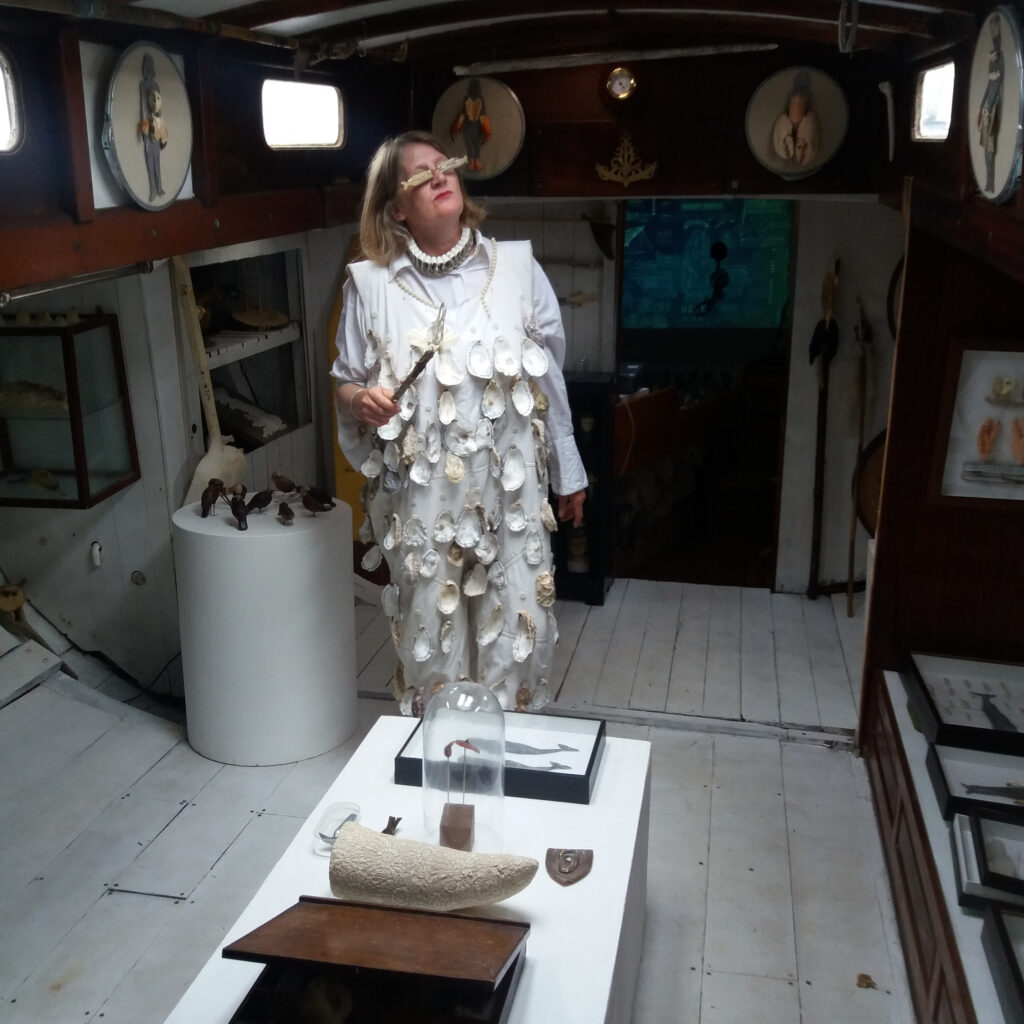 I Interviewed artist, curator and film maker Angela Cockayne who puts together delicate found objects with her own creations to sharpen the viewer's awareness of environmental breakdown. Angela's powerful work uses metaphor, humour and absurdity to speak about climate crisis and species extinction.
Leslie: Tell us about your collection of objects displayed on The Ark. How did this activity begin, grow and develop?
Angela: The Ark is a boat situated on a Cornish moor a few miles from the sea. It's a retired 44-foot wooden fishing vessel we acquired and restored called Embrace. Inside The Ark, over a period of years, I have collected found objects and artworks that showcase environmental degradation. Below deck, I've assembled delicate objet trouvé that explore what we're losing as the eco crisis deepens. In the bilge, the iron ballast has been replaced with lead and pewter objects, bon mots, bronze maps, and cast metal figures taken from emergency evacuation signs. Embrace has become a space to contemplate the fate of future generations, and some of the 1.4 million known species with whom we share the planet.
How did it begin? The first step was when I was asked to respond to the first public collection of curiosities in England, the Tradescant Collection, then temporarily housed in the History of Science Museum in Oxford. I was inspired by the objects John Tradescant had brought back from his travels, such as a 'mermaid's hand', which was probably fashioned from the limb of a manatee. These ambiguous objects challenged contemporary categories and understanding, relocating them somewhere between art and nature.
My response was to create an ethical collection called Chimera that defied classification. It also aimed to acknowledge our abuse and dominion of the natural world. The collection, using wax and materials gathered from the Cornish coast, employed humour, absurdity and spectacle to make its point. The Ark Embrace was an extension of the same idea.
We are living in extraordinary times, which will come to define the future for our existence. Many writers, artists, scientists, and some world leaders have finally acknowledged a need to address the truth on climate. The Ark Embrace tries to translate climate/eco breakdown into physical touchstones. It's a sensual approach, aiming to bypass our collective denial through curiosity and wonder.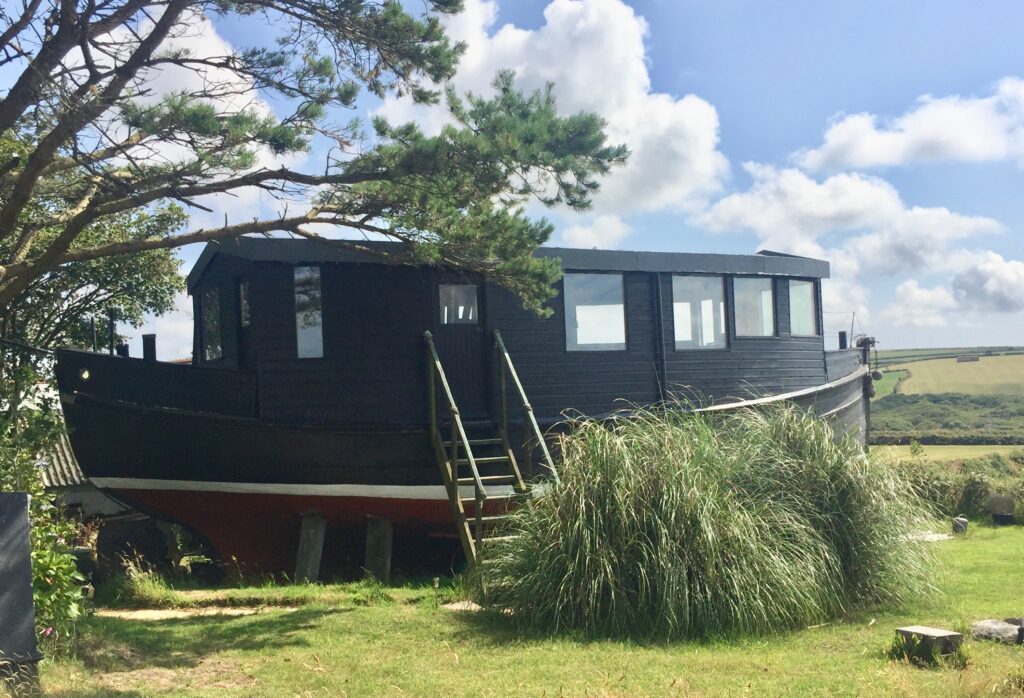 Leslie: You are also involved with the Big Read. What is it, and what do you get out of the stories you're involved in?
Angela: The Big Read is a book survey that showcases written works in original ways. For several years I based my work on Melville's Moby Dick, a novel ahead of its time that combines cetology, anthropology, obsession, prophesy, self-destruction and morality. It is saturated with metaphor, as pertinent today as when it was first written in 1851, and perhaps arguably even more so.
The work culminated in the first whale symposium in the UK, a collaboration with author Philip Hoare, and an exhibition, film and book called Dominion. The Moby Dick Big Read grew out of this organically; it took two years to make curating 136 art works and 136 readers to bring it to a new global audience and digital age.
I also worked on another 3-year project co-curating the Reading No. 1 | Ancient Mariner Big Read-. Again a work of 18th century science fiction, that has prophetic messages for the natural world, climate breakdown and mental health.
Leslie: Tell us the story of the orchard you planted.
Angela: A few years ago I left the bitter-sweet world of academia to try to live a more sustainable life. I wanted to focus more on environmental projects; restoring a derelict farmhouse, rewilding two acres, planting an orchard, and attempting to live self-sufficiently.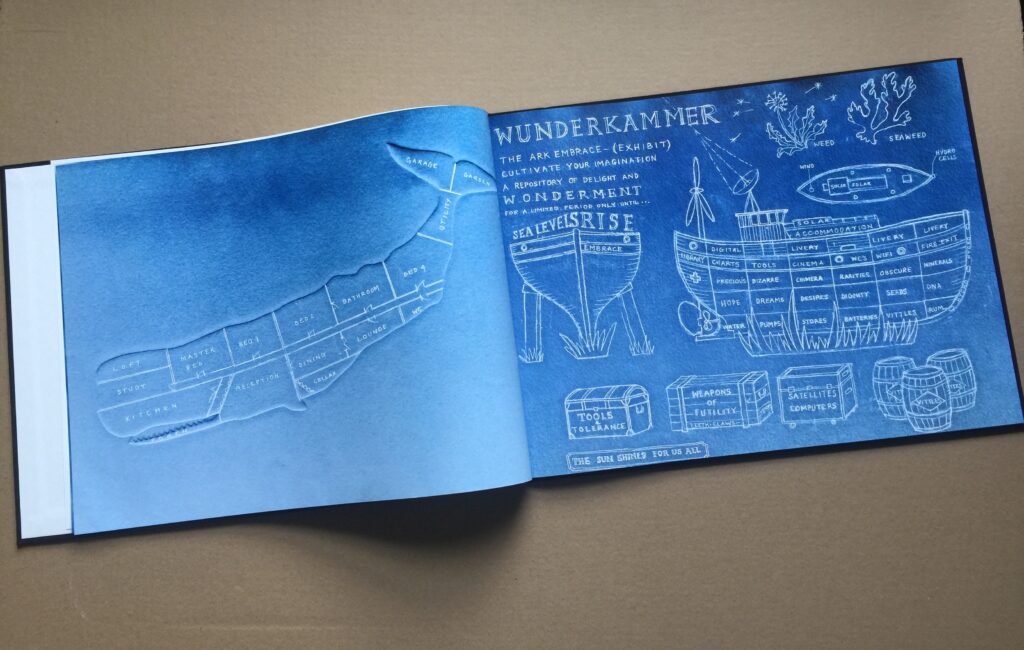 Leslie: What are the artworks of yours that represent most clearly the relationship between art and custodianship of the Earth? How do they make that link for you?
Angela: The land where Embrace was gently placed has now become a sanctuary, an invitation for 'nature' to return. It's a living natural history. So Embrace is not only a repository of curious objects, but a ship aground from which to observe surrounding creatures both great and small now returning to the meadow.
Leslie: Where do your ideas for Radical Fauna come from? What's their intended impact?
Angela: Over the years I've tried several tactics to communicate the climate emergency in numerous art projects, using metaphor, irony, curiosity and humour. Radical Fauna is a commentary by a number of imaginary creatures, reflecting on the closing days of the Anthropocene and the first bewildering days of a strange new age. The creatures in Radical Fauna are an attempt to make a bitter truth more palatable.
Leslie: How do you find meaning in the face of extinction?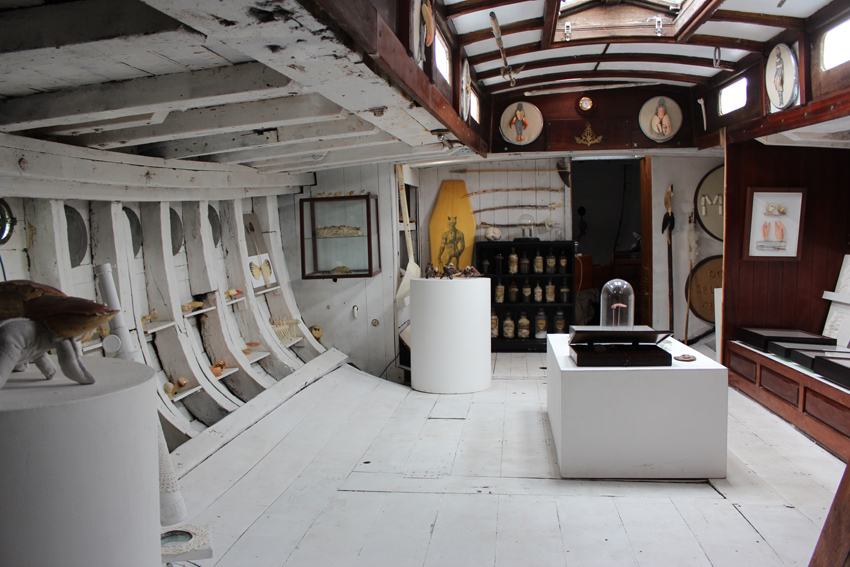 Angela: We now know that climate collapse is getting worse much sooner than predicted. If we don't act now, we won't have the capability to do so when things spin out of control. Again, governance is failing us because politicians will only engage positively if they think it wins votes. So we need mass action to move them. In fact, if Covid has taught us anything, it's how to hold on to what we value and what we can relinquish.
Personally, I'm also conflicted, numbed and sleepless, after reading climate science. I feel I now 'work' in defiance, of climate denial, inertia and fatigue, which will consume us and decide our fate if we allow it to. I have recently become a grandmother, to four baby girls, I feel that without urgent action their future is beyond comprehension. I go to my studio each day to work on projects, I grow and plant trees, sell plants by my gate to support environmental charities, I help care for my grandchildren, and when it all gets too much, I take to the sea; sailing or swimming in an attempt to unlearn my dominion in Falmouth Bay.
Next week I interview author, musician, PhD ecologist and dog trainer Wendy Parciak,
ABOUT LESLIE TATE'S BOOKS:
Love's Register tells the story of romantic love and climate change over four UK generations. Beginning with 'climate children' Joe, Mia and Cass and ending with Hereiti's night sea journey across Oceania, the book's voices take us through family conflicts in the 1920s, the pressures of the 'free-love 60s', open relationships in the feminist 80s/90s and a contemporary late-life love affair. Love's Register is a family saga and a modern psychological novel that explores the way we live now.
Heaven's Rage is a memoir that explores addiction, cross-dressing, bullying and the hidden sides of families, discovering at their core the transformative power of words to rewire the brain and reconnect with life. "A Robin Red breast in a Cage / Puts all Heaven in a Rage" – William Blake. You can read more about/buy Heaven's Rage here.
The Dream Speaks Back, written by Sue Hampton, Cy Henty and Leslie Tate, is a joint autobiography exploring imagination and the adult search for the inner child. The book looks at gender difference, growing up in unusual families and mental health issues. It's also a very funny portrait of working in the arts, full of crazy characters, their ups and downs, and their stories. You can buy a signed copy of The Dream Speaks Back here.
Ways to be Equally Human tells the inside story of coming out as a non-binary person, from being 'othered' in gendered toilets to stepping up on stage & radio and taking action with Extinction Rebellion. Full of lyrical writing, humour and quirky insights, this is a book for lovers of language, nonconformists and passionate thinkers. Due out Jan 2024. Preorder your copy here.