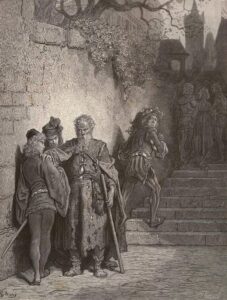 In the Rhyme of the Ancient Mariner, the mariner touches the shoulder of the wedding guest, beginning his story with "There was a ship." When the wedding guest objects, the mariner hypnotises his unwilling subject with a fixed and glittering stare.
Using a similar but much lighter technique, the great master of hypnotherapy, Milton H Erickson, developed the 'handshake induction' designed to produce a gentle trance. Erickson would distract his client at the start of a consultation by gradually withdrawing his hand and touching the wrist so gently that his subject couldn't quite tell when the contact ended.
In both cases the goal was for the subject to pay attention to hints and suggestions normally passed over, and focus uncritically on a single train of thought. In the process, the subject would discover hidden truths about the self or personal experience.
The story of my cross-dressing was similar. Continue reading My Outing Part 4 – DRESSING UP →