'For me the process of creating art… is a way of re-connecting with your inner self, it stimulates the imagination, it can bring clarity, which in turn helps to dissolve problems; it strengthens the ability to concentrate and can have a calming and comforting effect.'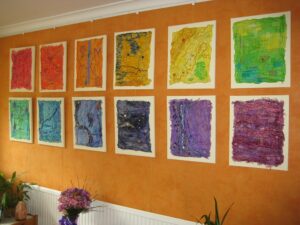 I interviewed Catherina Petit–van Hoey, a visual artist, originally trained in textile and fabric work, who now experiments with an unusual combination of mixed-media art, meditation, alchemy and art therapy. The titles Catherina uses for her artworks give an idea of some of her concerns, they include: 'Threads of Time', 'Human Alchemy', 'Sweet Life' and 'The Enlightenment of a Housewife'.
Leslie: Who are your artistic influences and why?
Catherina: I am influenced by a whole range of different artists and artworks for different reasons. Visually I am interested in artists who use bright colours and expressive mark-making in their works, like Kandinsky, Hundertwasser and Rothko. Conceptionally I am interested in any artist dealing with the 'question of identity' who expresses a sense of space and stillness or makes you wonder and reflect upon life itself, for example works by artists Antony Gormley, Grayson Perry, Yinka Shonibare, and the Romanian sculptor Constantin Brâncuși. I am also inspired by the poetry and philosophy of Lao Tze and Rumi and the philosophical writings and witty illustrations by Richard Stine.
Leslie: What artistic mediums do you choose to work in?
Catherina: I like to work with fabric, paper, thread, fibres and found objects, but at times I like to venture out into uncharted territory, exploring plastics, plaster or metal. The mediums and techniques I use are often chosen to best support the realisation of that particular piece of work and not the other way around. So for example, when I had the idea of creating 'The Alchemical Curiosity Cabinet', I chose to work with metal. After all, on a physical level, alchemy is about turning base metals into gold. As I had never worked with metal before I had to invest money and time to buy materials and specialist tools and spend several weeks exploring and experimenting before I could start the actual work.
Leslie: What are the deeper concerns to be found behind your artworks?
Catherina: From a very early age I have always been intrigued by the bigger questions of life. In my search for answers I struggled in my late teens and twenties with depressions, alcohol, my Catholic upbringing and, most of all, the big question of my identity. One day I came across an old friend I had lost touch with who had turned her life of self-destruction around through the practice of meditation on inner light and sound. This meditation promised to answer all my questions through a journey of self-discovery and, remarkably, it did. Most of my work is about expressing personal and universal insights I've gained through over 30 years of practising meditation.
Leslie: What important phases has your art been through, and why?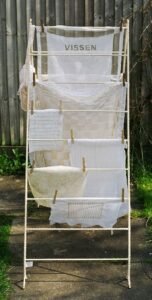 Catherina: I have always worked with textiles, starting with dressmaking when my daughters were born. I learned many different techniques through many different courses but never considered myself to be an artist. Then in 2002, after a surprise sale of my final diploma artwork, I was a selected as a finalist for a prestigious national competition, the Charles Henry Foyle Trust Award for Stitched Textiles . The work I created was an installation called 'The Enlightenment of a Housewife'. I didn't win a prize, but I came fourth and my work was on show for several months, including in a gallery in Birmingham. This gave me an enormous boost and I joined the arts organisation, Herts Visual Arts, which has organised open studios every September in Hertfordshire for the last 25 years. Getting exposure through their website, doing open studios, meeting other artists and regularly exhibiting new work shaped my identity as an artist. Although I am not making a living from my art, which for some people seems to be the criterion for being classified as an artist, I do consider myself to be an artist when I create a work which expresses my deeper feelings, thoughts and inspirations.
Leslie: Which works of yours do you think of as the most important, most seminal, and why?
Catherina: Apart from my installation 'The Enlightenment of a Housewife', which is also the title of my blog, I have created a series of collages called 'Sweet Life'. They were made with quality sweet wrappers and bits of poetry. They resulted in a commission in 2005 by an interior design company to create a collage for a local Starbucks coffee store. This again was a big confidence booster, but it also marked the beginning of venturing out in creating mixed-media work and not limiting myself to textiles. My latest, most important work, has to be the 'Alchemical Curiosity Cabinet'. In 2013 I took part in a project, organised by the Hertfordshire Archives and Local Studies library at County Hall in Hertford, called 'Threads of Time'. It was a six month project involving research in the archives where I found some old documents on alchemy and astrology, which partly inspired me to create this cabinet. However my main inspiration came from the personal tragedy of suddenly losing a daughter aged 22 in May 2012. Her death brought me close to giving up art as I couldn't see the point of doing anything. However this project offered me the opportunity to alchemise my personal grief into a piece of work which also represents the age-old search for eternal life beyond death and suffering.
Leslie: How do your meditative practices relate to your art?
Catherina: When I discovered that meditation creates a space and stillness in me, which unleashes a constant stream of creative inspiration, I started using my art as a form of expression to reflect these insights. I am never afraid of running out of ideas and I have many 'light-bulb moments' when I am in the process of creating art. My only limitation is time – and 'living in the moment' seems to be the only remedy to that. For me the process of creating art for its own sake has an enormous therapeutic value. It's a way of re-connecting with your inner self, it stimulates the imagination, it can bring clarity, which in turn helps to dissolve problems; it strengthens the ability to concentrate and can have a calming and comforting effect. I have always noted the therapeutic value of the process of creating art, but never so strongly as in the last few years.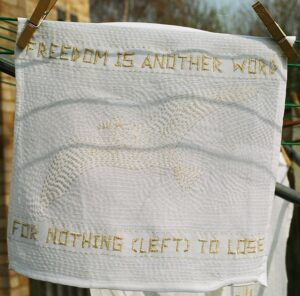 Leslie: What is your idea of the place of art and its relationship to other expressive disciplines?
Catherina: I wish the mental health benefits of creating art, in all its disciplines, were recognized by all education and health departments and services to the extent of it being compulsory in the school's curriculum, equal to Maths and English and offered as a more desirable therapy than the drugs prescribed by the so-called mental health professionals.
Leslie: Catherina writes about her inspiration, philosophical ponderings, textiles and journey through life at her blogspot here. She posts about her most recent art activities here.
ABOUT LESLIE TATE'S BOOKS:

Love's Register tells the story of romantic love and climate change over four UK generations. Beginning with 'climate children' Joe, Mia and Cass and ending with Hereiti's night sea journey across Oceania, the book's voices take us through family conflicts in the 1920s, the pressures of the 'free-love 60s', open relationships in the feminist 80s/90s and a contemporary late-life love affair. Love's Register is a family saga and a modern psychological novel that explores the way we live now.
Heaven's Rage is a memoir that explores addiction, cross-dressing, bullying and the hidden sides of families, discovering at their core the transformative power of words to rewire the brain and reconnect with life. "A Robin Red breast in a Cage / Puts all Heaven in a Rage" – William Blake. You can read more about/buy Heaven's Rage here.
The Dream Speaks Back, written by Sue Hampton, Cy Henty and Leslie Tate, is a joint autobiography exploring imagination and the adult search for the inner child. The book looks at gender difference, growing up in unusual families and mental health issues. It's also a very funny portrait of working in the arts, full of crazy characters, their ups and downs, and their stories. You can buy a signed copy of The Dream Speaks Back here