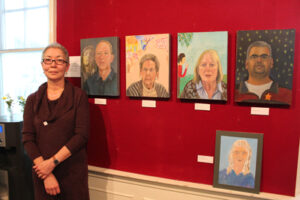 I first met artist Aya Hastwell at her exhibition 'Invisible People'. I asked Aya about her growth as an artist and how she works on portraits of people who have been marginalised.
Leslie: Can you tell us, please, about the portraits you recently exhibited of elderly people, carers and people with mental health issues?
Aya: In 2013 I decided to do a series of portraits of the Service Users at Guideposts. A major reason why I started volunteering at Guideposts, by the way, was that my son is bipolar. I became a staff member a few months ago,
I suggested the portraits idea to the art group members I was working with and asked them to contribute to the project by designing and painting a background for their own portrait. The background had to reflect their personality, be it related to their mental health issue or to their memories or families, etc.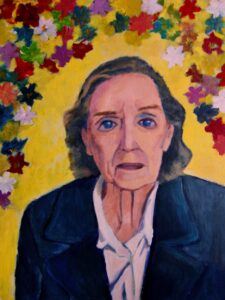 As a result of the collaboration with the Service Users, I was able to paint 13 portraits that I exhibited at the graduation show at the Art Academy under the title 'Invisible People'. The purpose of the project was to increase awareness of people with mental health problems, to show that they are equal members of society and to show their daily struggle with illness and disability. Later the portraits were exhibited at Guideposts and then at Watford Museum, where I've been asked to donate the portraits to the Museum collection.
In 2014 I became a part-time carer for elderly and disabled people and the experience helped me recognise that these people are another Invisible part of the society. Most of my clients were old ladies in their 80s and 90s and very often they wouldn't see anyone for days anyone except carers. I also was impressed by the qualities and compassion of my colleagues at care services, though often the media presents a negative image of these carers. The people I met were humble and hard-working, doing their job responsibly even though they are paid a minimum wage.
As a result of my working experience as a carer I decided to extend my project 'Invisible People' and paint my clients and colleagues to bring awareness of this group as well. The 2nd part of the project was exhibited at Watford Town Hall at the end of last year, and then the whole project was on display at Watford Museum in February this year.
Leslie: What key experiences in life have influenced how you approach art?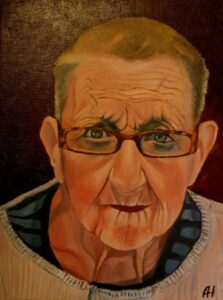 Aya: I wanted to create art since I was a child. In some sense I followed my father's footsteps. My father studied art at college but then he had to make a choice between art and journalism. He became a journalist but he used his skills as an artist drawing the people he interviewed.
Unfortunately I didn't have a choice. My Mum died when I was 12 years old, leaving our 40 year-old father with 4 children on his hands. He married again after one year. Our life changed. I left my home of Almaty in Kazakhstan at 16 years old and went to study mathematics at the university in Siberia. I got married when I was 18, had two children at 22 and divorced at 29. After the divorce I came back to Almaty and had to start again. I didn't have time for art but had to build my life and my career. A few times I tried to start doing art again but there were always another obligations and priorities.
Fortunately, due to working at Citibank, I had the opportunity to move to London in 2006 and, later, to apply for voluntary redundancy. I say 'fortunately' because I achieved a lot in this time, my pre-artistic career. Most of what I achieved was about learning and developing as a professional, on a daily basis, step by step, working persistently and continuously. There is a business ethic that I learned from my 10 years at the bank, and artistic knowledge that I learned at college and the London Art Academy. I follow the rules in any field I'm working. It may sound boring, especially when you talk about art, but for me it's a daily practice, constantly learning, reading and experimenting with various techniques, looking at other artists' work, and the most important – being honest with yourself, recognising your mistakes and abilities, developing your skills and working persistently. It gives results I believe.
Leslie: How has your family background from Kazakhstan influenced your art?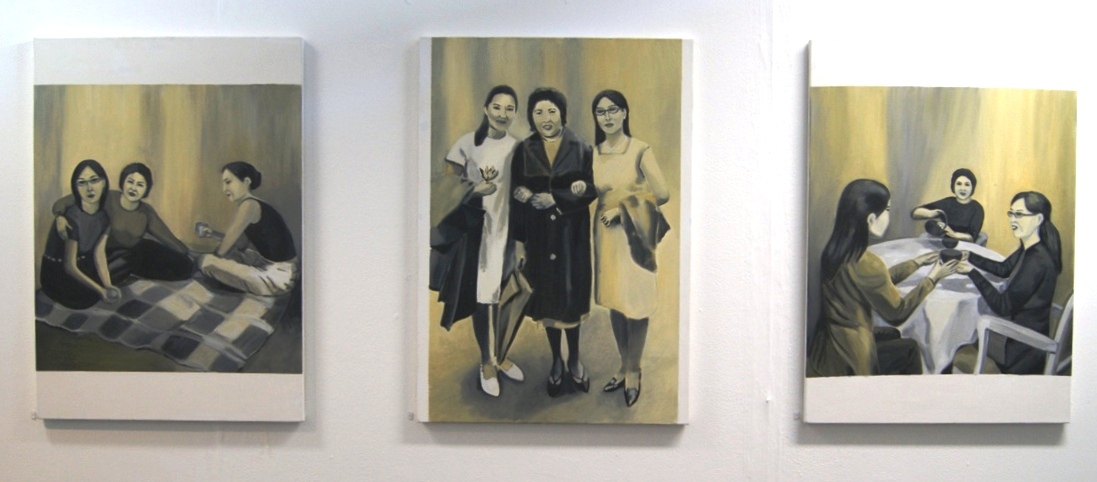 Aya: All my family are still in Kazakhstan. Living in UK has made me feel distant and isolated from them. When my father died in 2011, I recognised that our family had fallen apart and possibly didn't exist anymore. It made me think a lot about what is a family and my family in particular: what are the connections between its members and what would happen if my mother still was alive. It was like traveling through time back to those days when we were a happy family.
In 2012 I presented 'My Family' project at the graduation show at City Lit in London. The project was an effort to bring memories about my mum and connect her with my daughter, who never met her, and myself. 'My Family' triptych represented imaginary scenes of happy family outings. The paintings were done in monochrome to re-create the photograph style of late 60s.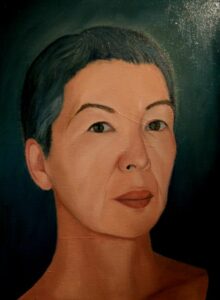 Leslie: Finally, I'd like to take you back to your work Guideposts and ask you how it has developed.
Aya: Currently I facilitate several groups at Guideposts: relaxation, walking group, art group and Club together; I work closely with the Service Users Representatives and I'm also a link-worker for a number of our clients.
I love my job.
ABOUT LESLIE TATE'S BOOKS:
Love's Register tells the story of romantic love and climate change over four UK generations. Beginning with 'climate children' Joe, Mia and Cass and ending with Hereiti's night sea journey across Oceania, the book's voices take us through family conflicts in the 1920s, the pressures of the 'free-love 60s', open relationships in the feminist 80s/90s and a contemporary late-life love affair. Love's Register is a family saga and a modern psychological novel that explores the way we live now.
Heaven's Rage is a memoir that explores addiction, cross-dressing, bullying and the hidden sides of families, discovering at their core the transformative power of words to rewire the brain and reconnect with life. "A Robin Red breast in a Cage / Puts all Heaven in a Rage" – William Blake. You can read more about/buy Heaven's Rage here.
The Dream Speaks Back, written by Sue Hampton, Cy Henty and Leslie Tate, is a joint autobiography exploring imagination and the adult search for the inner child. The book looks at gender difference, growing up in unusual families and mental health issues. It's also a very funny portrait of working in the arts, full of crazy characters, their ups and downs, and their stories. You can buy a signed copy of The Dream Speaks Back here