I interviewed embroiderer, book artist and printmaker Annwyn Dean about how she uses antique textiles, "… to draw the viewer into the piece to consider the history of the designer, maker and wearer of the textile." Annwyn's exceptional Collagraph-printed books also make the connection, "… between the viewer, myself the artist and the original fabric, so encouraging consideration of the original textile and its history."

Leslie:  Can you give a short overview of your work as an embroiderer, book artist and printmaker, please?
Annwyn: After our son was born in the 1980's I was able to embark on a C&G Creative Embroidery course at a local college in Hertfordshire, this led to teaching and writing about embroidery in magazines and books. My personal work involved using paper as the primary medium and this led to creating artist books. Just over a decade ago we returned to live in the North West of England and I made the decision to change tack and with the help of a few day classes became entranced with Collagraph printing. My Collagraph plates are constructed from various textures of paper and I do often incorporate stitches. My work is inspired by antique textiles the majority of which I collected whilst teaching.
Leslie: An artwork by you involves complex and demanding technical processes, but the outcome is far more than a decorative object or a processed product for sale. What are your expressive aims as an artist, please?
Annwyn: An important aim of my work is to tell the stories behind the original textile fragment that has been my source of inspiration; to draw the viewer into the piece to consider the history of the designer, maker and wearer of the textile. My books are small enough to be held, when closed, in the hand, they provide an intimacy, a link with the antique textile and with me the maker. Collagraph prints are full of texture and so tactile when touched, just like a fabric, so providing another link between the two materials.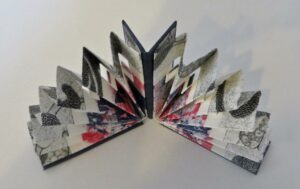 Leslie: You collect old fabrics then search for similar textiles. How does this process continue to a finished artwork, please?
Annwyn: The textiles that I'm most interested in date from c1650 to c1800, this was a period when every stage in production was by hand, before the Industrial Revolution got into its stride. Some of the textiles are mere fragments, displaying wear and tear, repairs and restyling. I will research the textile mostly through books learning about the components, the economic trade that they were part of, the function to which they were put and their place in social history.
I will incorporate some of these ideas into the shape and structure of the book and the design of the Collagraph print will draw strongly upon the design on the textile whether it be stitch or print.
Leslie: What is the practical process that goes into your handmade books?
Annwyn: I'm a very practical person, so I will have made a toile of the proposed book structure from a similar weight paper, so that I can decide upon size of folds, height and length. It is essential that the plate, which takes a lot of time to construct is in harmony with design of the book. A centimetre too short or too long could be an issue!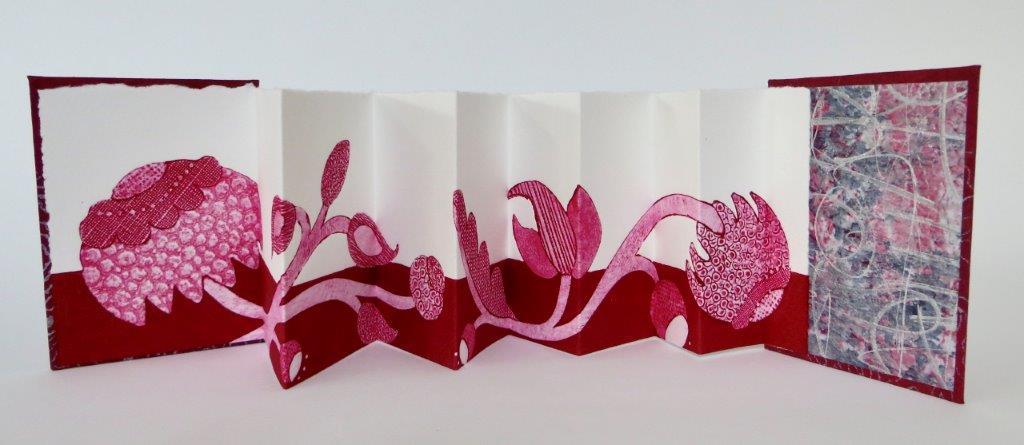 Leslie: What are the challenges of working with long prints? What have you learned about yourself from working as a printmaker?
Annwyn: I have always liked to work with a long, thin rectangle shape, and using grey board as the base for my prints allows me to work with any shape I wish. Textiles are about yardage and the width between the selvedges. I don't find it a problem!
I took art A Level at school and my art teacher wrote in a report that Annwyn could become a good artist if only she'd get her hands dirty. I always  wear gloves whilst inking up, so in many ways I'm still the same person but have now found a happy niche.
Leslie: Can you explain what you mean by the ideas of 'Vulnerable to Alteration' and 'Collection', please?
Annwyn: It is known that within many of the significant C18th dress collections there are very few dresses that have not been altered. The dresses used very little fabric for the bodice and the skirts were made up of straight lengths of fabric which added up to many yards in total and could easily be unpicked for restyling. The woven silk pieces that I have show signs of being unpicked and then sewn again. These ideas formed the starting point of the 'Vulnerable to Alteration' series that I'm currently working on along side the themes of 'Collections'.
Over my many years of writing about embroidery I have been lucky to have been able to go behind the scenes in museums and stately homes. It is there that I saw the racks of carefully conserved textiles of all forms and sizes, there is so much more in storage than on display. These experiences have led me to consider my own meagre textile fragments, which have little financial value, but I can handle them and study them closely. However collections can be subdivided into many other collections, or subcategories eg lace, embroidered, printed or woven and several of my books have focussed on bringing together these aspects.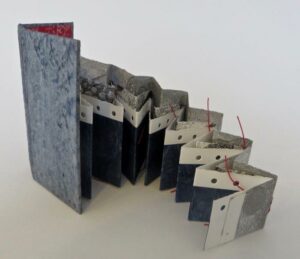 Leslie: Why is memory so important to your art? How / why do you aim to 'layer in' the past to what you do?
Annwyn: In general I'm more interested in the stories that my textile fragments tell, the notion of memories came to the fore during 2020 when I couldn't go and search for different antique textile pieces, nor could I visit museums and collections. I had to fall back on my memories and develop work from there.
Leslie: I often find the writing I struggled most with is the best. Is there a parallel to this in your art (or does the best come easiest)?
Annwyn: There is almost nothing better than having a spark of an idea, scribbling it down in a notebook and then seeing it through. Because of that feeling the work becomes special and therefore a good piece! I really don't want it to be easy, every book is a challenge, just as it probably was for those who made the original textile. If the resolution of the completed piece conforms with the idea that I had in my minds eye at the beginning then I am happy.
Next week I interview Ben Spiller Artistic director of 1623 Theatre Company who are: 'marginalised people working creatively for social justice with you and Shakespeare'.
ABOUT LESLIE TATE'S BOOKS:
Love's Register tells the story of romantic love and climate change over four UK generations. Beginning with 'climate children' Joe, Mia and Cass and ending with Hereiti's night sea journey across Oceania, the book's voices take us through family conflicts in the 1920s, the pressures of the 'free-love 60s', open relationships in the feminist 80s/90s and a contemporary late-life love affair. Love's Register is a family saga and a modern psychological novel that explores the way we live now.
Heaven's Rage is a memoir that explores addiction, cross-dressing, bullying and the hidden sides of families, discovering at their core the transformative power of words to rewire the brain and reconnect with life. "A Robin Red breast in a Cage / Puts all Heaven in a Rage" – William Blake. You can read more about/buy Heaven's Rage here.
The Dream Speaks Back, written by Sue Hampton, Cy Henty and Leslie Tate, is a joint autobiography exploring imagination and the adult search for the inner child. The book looks at gender difference, growing up in unusual families and mental health issues. It's also a very funny portrait of working in the arts, full of crazy characters, their ups and downs, and their stories. You can buy a signed copy of The Dream Speaks Back here.