'Often I can see the humour and the sadness in the same situation and, as a writer, I have sometimes taken a tale which was told to me as a comic story and recast it as a tragic one or vice versa.'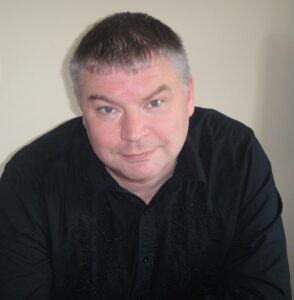 I talked to Chris Hill, a former crime reporter who now writes literary and comic fiction. I asked Chris about his career as a journalist. "People sometimes think," he told me, "that because I was news editor of The Citizen in Gloucester during the Fred and Rose West murder case, I write thrillers. Funny enough, I've never had any desire to do so." Chris now works for WellChild, a UK charity which helps seriously ill children. "It's a job," he said, "which I find very fulfilling." Chris was the 2001 winner of the Bridport Short Story Prize, so I began the interview with questions about his literary interests and methods.
Leslie: Who are your literary influences and why?